uNopia starts
2019 is the year of realization! After the success of our crowdfunding campaign (more than 130 contributors), uNopia is now about to start the adventure!
"Silence! is a creation specially conceived for the uNopia truck-stage project, in the manner of a concert-manifesto for their first tour, evoking the themes dear to this collective: music and travel being one here, a powerful vector of freedom and imagination, of the possibility of escape and sublimation. The audience will hear pieces by Rachmaninov, Rameau, Brahms, Berio and Monteverdi, all carried by a plot in which three musicians are captive to a madman whom only music can animate and to whom it allows him to embody characters and give free rein to his fantasy.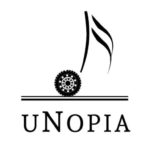 CONTENTS
1. Manifesto
2. Silence!
3. Other uNopia concerts
4. uNopia in the press in 2019
5. uNopia's new horizons in 2020
6. What does a uNopia concert look like?
7. Contact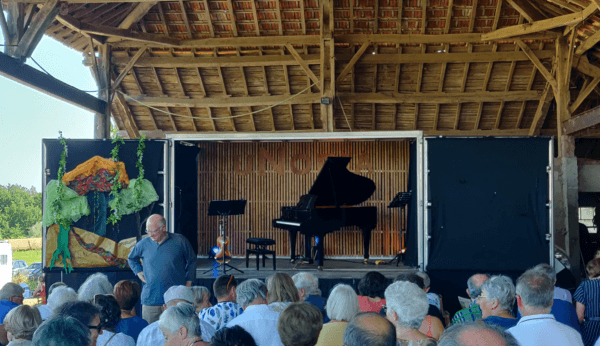 1. MANIFESTO
We want to give new impetus to classical music, to reach out to audiences in a society where listening is increasingly rare, where "artistic efficiency" is the key word. While it is too dreaded by its codes, we want to give it back its naturalness!
We believe that classical works have a profound meaning that still touches us today, that their messages are meant to be shared with as many people as possible, and we want to prove that their ancient forms do not hinder their discovery.
We think it is unfortunate that a segmentation of musical styles is perpetuated, whether in time, space or social backgrounds. We wish to restore to classical music its freedom of movement, beyond all constraints. We believe that music is shared, lives through the exchange between the giver and the receiver. That the live performance gives rise to unique moments between the audience and the artists, regardless of the location. Finally, we believe that it is essential that young musicians take the initiative to play at all costs, in all places, at all times and in all their states the music they are passionate about.
uNopia has the ambition that these words become a human and musical adventure. Thus, we have set up a participatory association open to all and based on these principles, a mobile and modular place for creating shows (stage truck) that goes to meet European spectators: a laboratory for developing new forms of artistic expression!
The uNopia team
Utopia does not mean the unattainable, but the unrealized.
Theodore Monod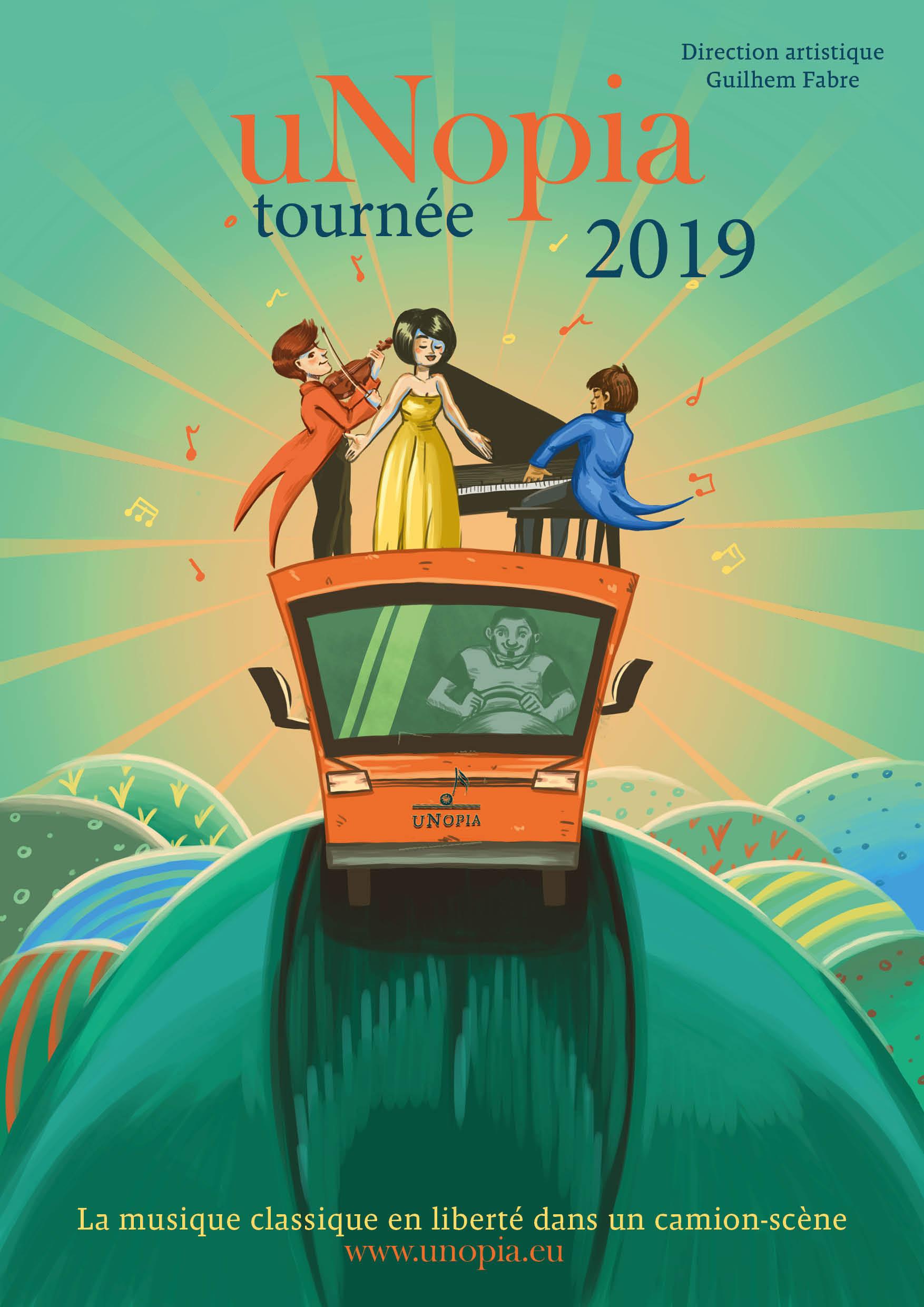 2. SILENCE!
Silence! is a show-manifesto specially written to launch our adventure. We wanted it to take the form of a philosophical tale accessible to all audiences and evoking the themes dear to this collective: music and travel being one here, a powerful vector of freedom and imagination, the possibility of escape and sublimation. The audience will hear pieces by Rachmaninov, Monteverdi, Berio, Brahms, Mozart, Knox, Vaughan Williams, Bridge, Franck, Weber, or Ravel and Rameau, all carried by a plot in which three musicians are captives of a madman whom only music can animate and to whom it allows to embody characters and give free rein to his fantasy.
Synopsis: In the dark night, one Tuesday, three frail and trembling silhouettes discreetly take shape. Welded together, three musicians take small steps. Suddenly, in front of them, a terrifying shape emerges from the darkness. A metal monster with flashing yellow eyes stands in their path. "For a moment, it seemed as if silence existed and you gave it meaning."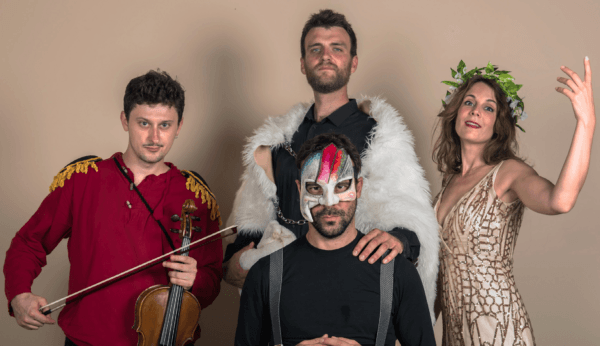 The uNopia 2019 collective is made up of artists from the world's leading educational institutions (CNSMDP, Universités des Artsde Montréal, Moscow Conservatory, Guildhall School of London, Cours Florent).
Guilhem Fabre, pianist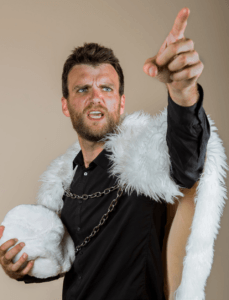 His passion for travelling and sharing music led him to imagine this adventure, uNopia, around which he wants to federate the artists he loves and admires. A 30-year-old pianist with an original career path, a graduate of the CNSM in Paris and the Gnessin Academy in Moscow, a laureate of the Banque Populaire Foundation and the Pro Musicis Prize, he devotes himself to a career as a soloist in France, Russia and elsewhere, as well as to numerous original shows, notably with Olivier Py.
François Michonneau, comedian and author of Silence !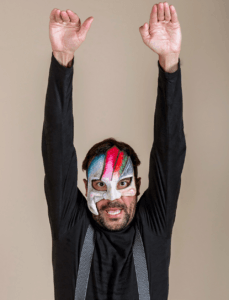 In 1992, François enters the music conservatory of Rochefort/mer where he studies music theory and accordion for ten years. In 2008, he joins the Florent school, where he takes lessons from Frédéric Haddou, Bruno Blairet, and Benoît Guibert. In 2011 he joined "La parade d'octave" to write and direct "Ce qu'on ne dit pas" and "On se mouille". At the same time, he plays under the direction of Xavier Bonadonna, "Les étoiles d'Arcadie" at the Théâtre du Soleil (Tremplin jeune talent), and Olivier Py, in "La jeune fille le diable et le moulin", "Orlando ou l'impatience" and "Les Parisiens". It was on this last occasion that he met Guilhem Fabre.
Johanne Cassar, soprano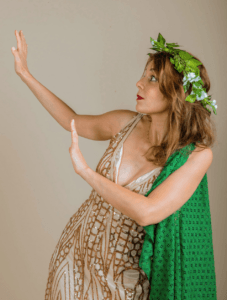 Johanne is a graduate of the Guildhall School in London, the CNSM in Paris and the University of Provence (Master 2. Literature and Arts). Winner of the Muses de l'Opéra de Nice competition, she performs as a soloist in a wide repertoire, from baroque to contemporary, and explores the possibilities of musical encounters, particularly with oriental music. Eager for musical exchanges, she discovered Russia during a recital in Kazan with Guilhem Fabre, and dreams of seeing the uNopia project come to fruition.
Olivier Marin, altiste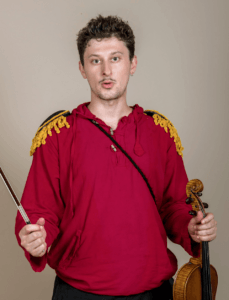 Violist of 31 years old, he won the 1st prize of the international competition of Gérardmer-Kichompré. In addition to classical music, Olivier has always developed original partnerships. For the past seven years, he has taken the path of improvisation thanks to exciting encounters with musicians such as Ibrahim Maalouf or Garth Knox. In Montreal, where he lives and perfects his skills, he has integrated different electroacoustic or Iranian music ensembles (ensembles Iléa, Kaaman).
Margaux Deconinck, costumes and masks
Margaux worked at the French Consulate in Guangzhou for the festival Croisements, a major event of French culture in China. She graduated from the Conservatoire du Maquillage in Paris and won the gold medal of the 2018 class in masks and special effects.
Anna Morozova, scenography
Anna is an architect, graduated from the MArchI School of Architecture in Moscow, she has been working for 10 years between Moscow and Paris, mainly in interior design. Passionate about theatre and visual arts since always, uNopia is her first experience as a scenographer.
For a first tour, without subsidies or sponsors, we are very happy to have the opportunity to play this show 8 times in different regions and very varied places.
– 30 June in Betcave-Aguin (Gers) as part of the festival Les Musicales des côteaux de Gimone. Our first one after 4 days of residence on the spot, in a farm, accompanied by a cow and seen by more than 200 people, all standing at the end.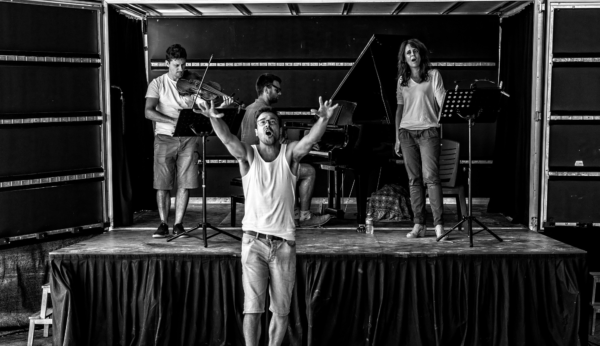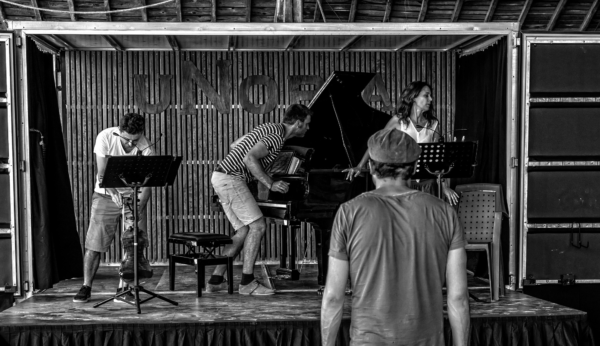 – July 7th in Lectoure (Gers) as part of the concerts Du Piano aux étoiles. We played in front of 200 people in a garden overlooking the Pyrenees.
– July 11th in Bordeaux as part of the festival l'Esprit du Piano. We played in an urban environment, on the banks of the Garonne river.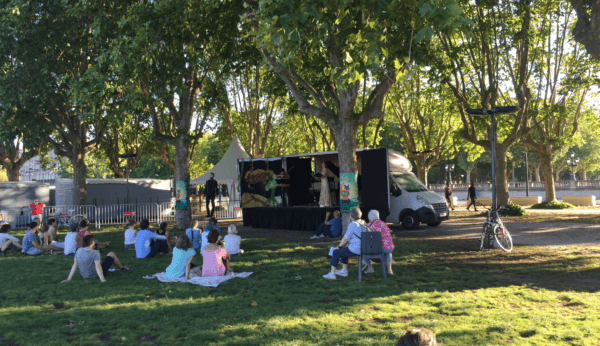 – July 27th in Limoges as part of the 1001 Notes festival. We were supposed to play near the giraffes but we had to retreat to the zoo castle in the Parc du Reynou because of the showers. Despite this, the show was beautifully received.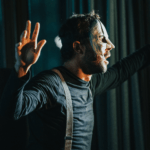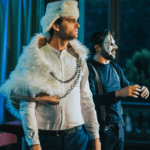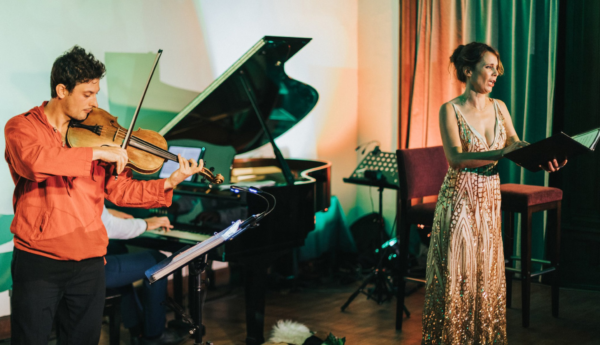 – July 28th in Dun le Palestel (Creuse) as part of the festival les Escales Dunoises. We presented the show in a forest, on the occasion of a very diverse music festival.
– July 24th in the Gardens of Montperthuis (Orne)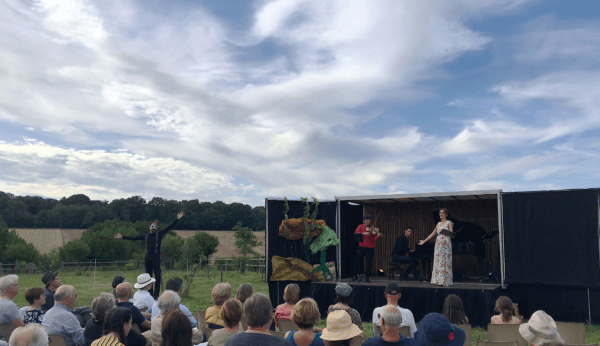 – July 25th in Luzarches (Val d'Oise) as part of the festival les Carrières Saint Roch.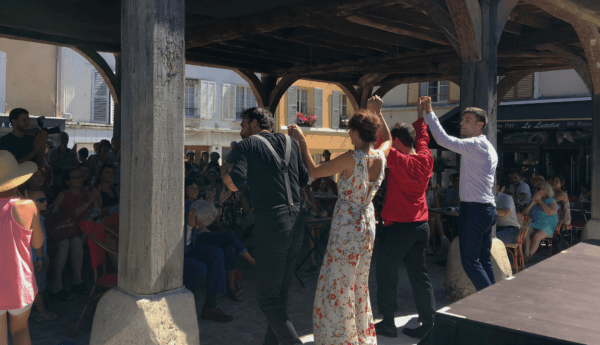 – On September 6th and 7th in Paris as part of the festival Les Traversées du Marais
3. OTHER UNOPIA CONCERTS


– May 28th-30th Improvised concerts in Lançon-Provence and Salon de Provence, as part of the festival Musique à la ferme. With the trio Hélios, the soprano Johanne Cassar, the recitalist François Castang. These short concerts, free of charge and imagined at the last moment with the different artists, allowed us to get to know our project and to try out the stage-truck for the first time!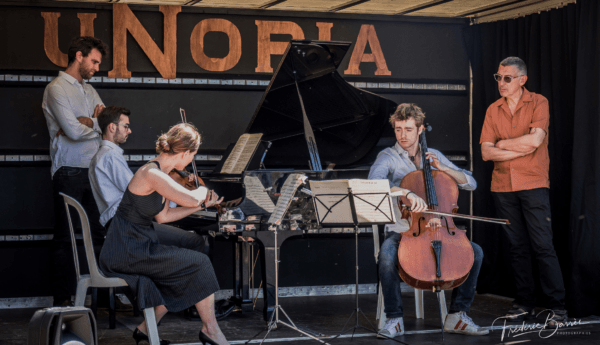 – July 17th 2019 Concert-meetings in the Beaubreuil and Val de l'Aurence districts of Limoges, organised by the 1001 Notes festival and the City of Limoges.
Guilhem Fabre and percussionist David Bruley, a renowned specialist in Persian percussion, have imagined these interactive interventions in front of young people, mixing works from the classical repertoire with Persian percussion, at the foot of the towers of these neighbourhoods far removed from classical music.
– July 21th 2019 Concert in Bordeaux as part of the festival Les nouvelles saisons.
4 hands piano recital with pianists Sarah Margaine and Guilhem Fabre, playing pieces by Dukas (the sorcerer's apprentice), Ravel, Borodine and Dvorak. As the truck couldn't get through the arcades of the courtyard Mably (!!), we decided to rehearse in front of the courtyard in the stage truck on the morning of the concert and in the evening, to fall back on a more usual concert formula: an immovable stage!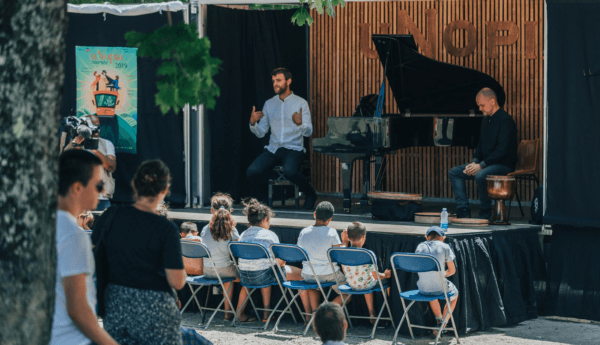 – July 27th 2019 The Carnival of the animals… fantastic! at the Parc du Reynou near Limoges, as part of the 1001 Notes festival.
Collective creation of the musicians of the show Silence! around the Carnival of the animals of Camilles Saint-Saëns, intended for children. We wished to add works of more varied styles, ranging from music from the Middle Ages to contemporary music. We gave the show twice at the Parc du Reynou. As for Silence! the same evening, we had to retreat to the castle because of the rain…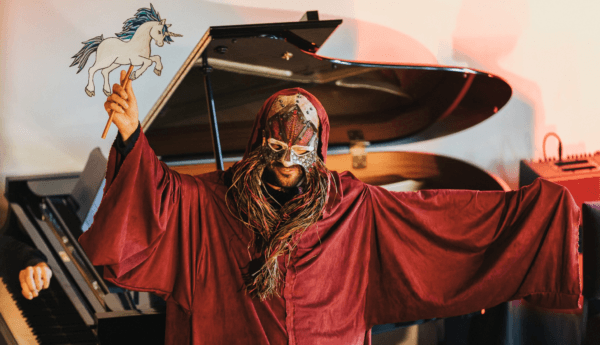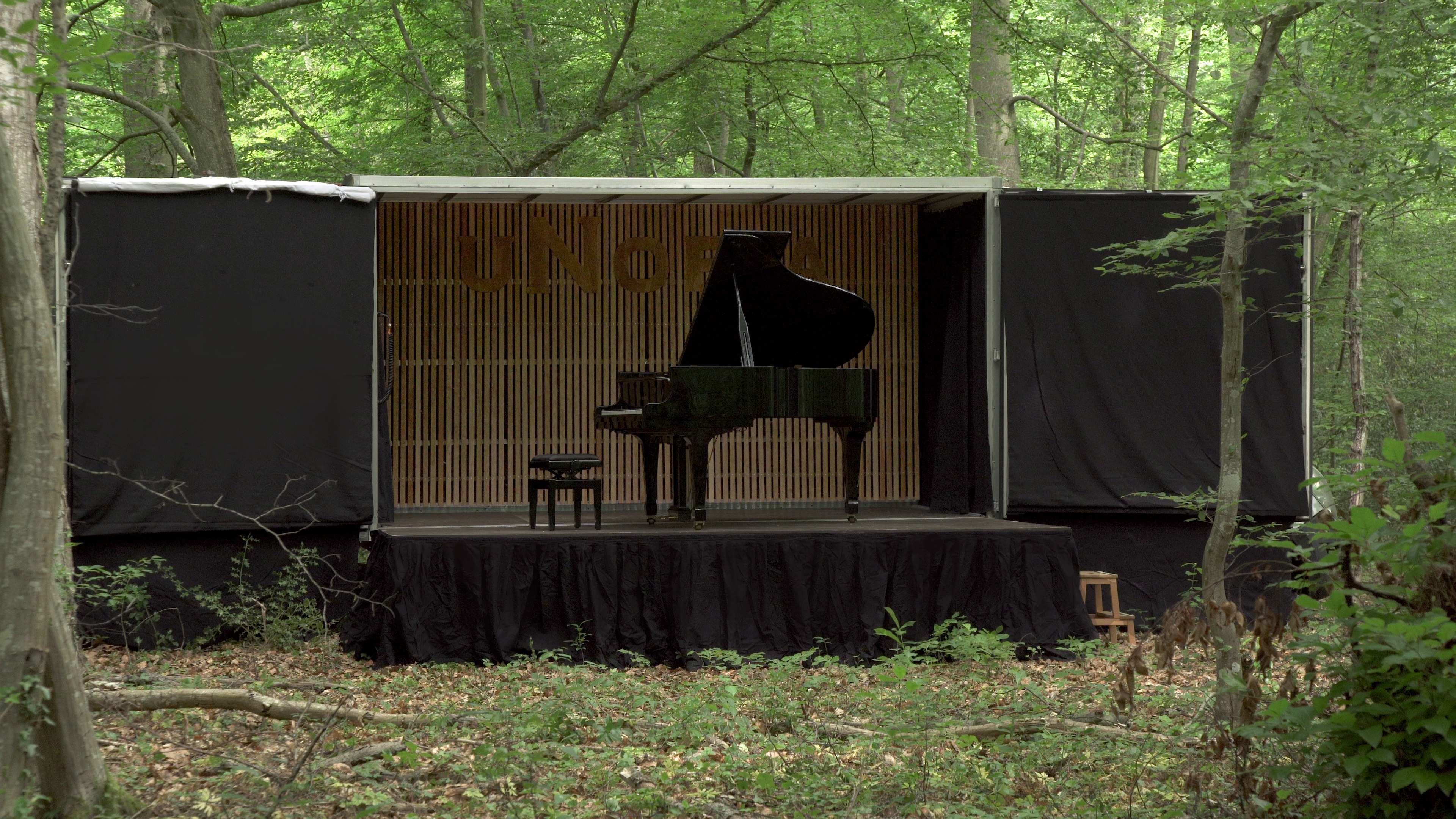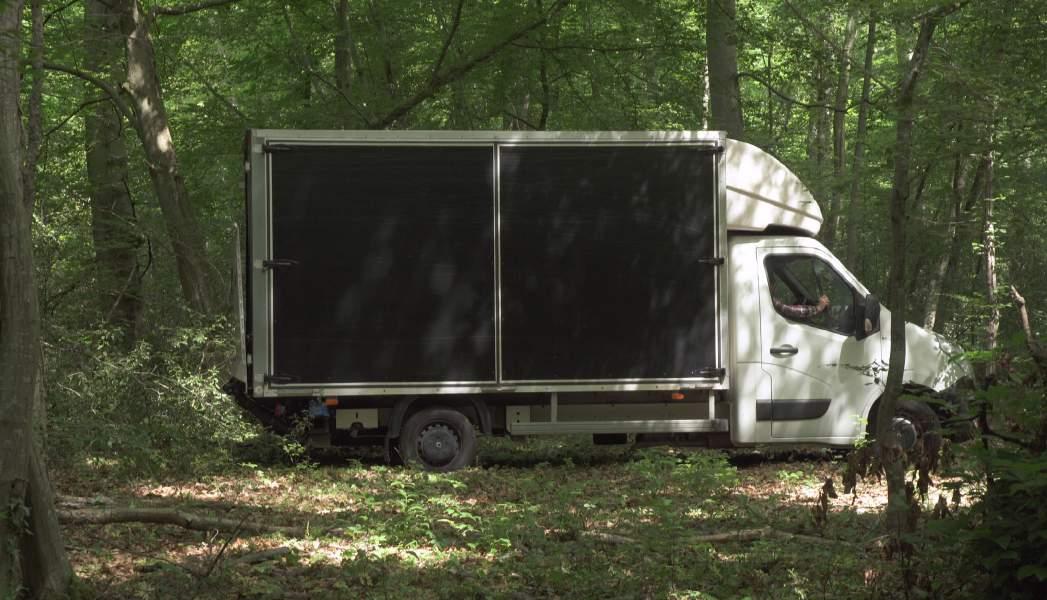 2020
– The 2020 tour is just beginning, just out of confinement, we just shot a video for FRANCE MUSIC in the forest of Compiègne.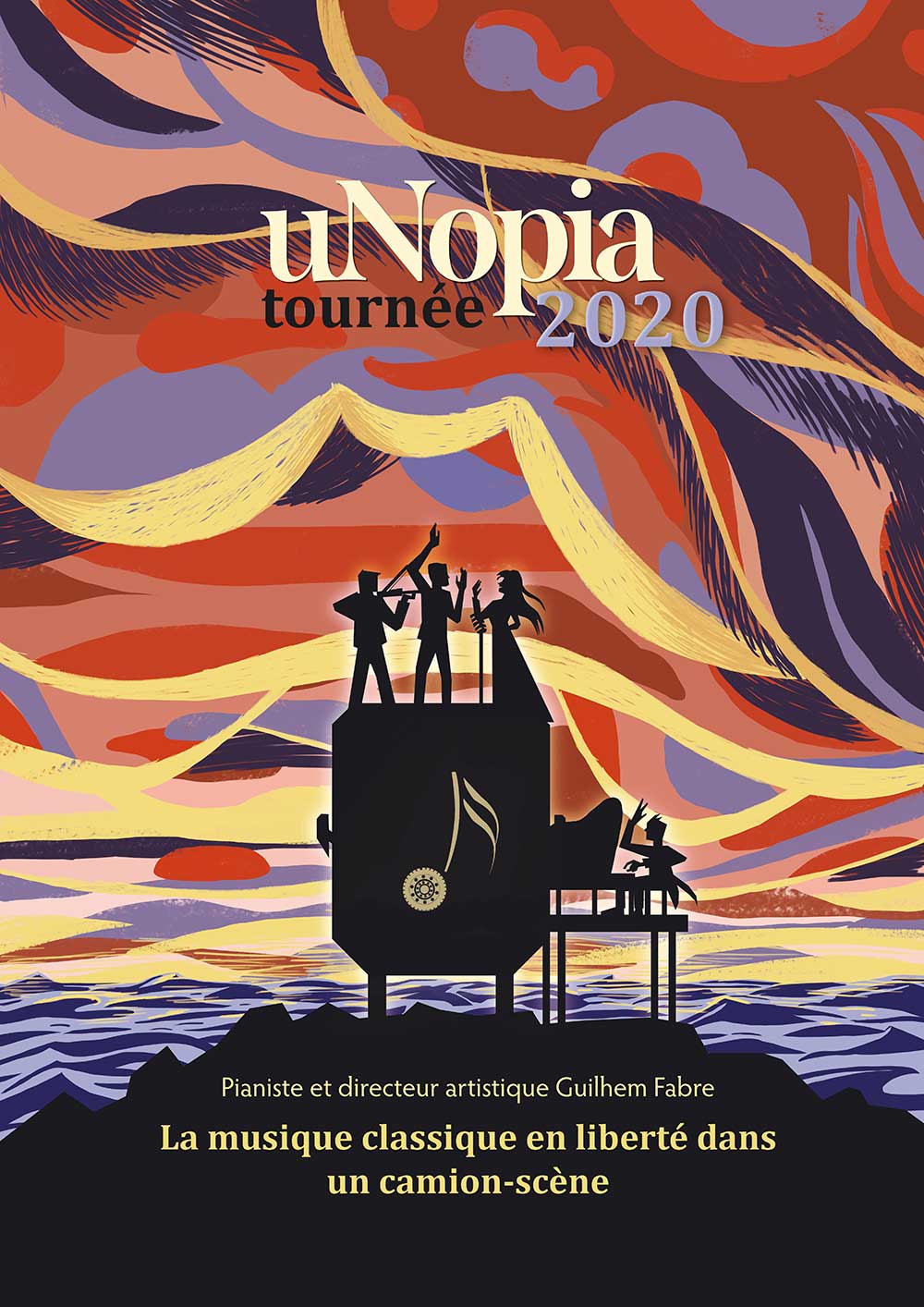 5. NEW HORIZONS FOR UNOPIA IN 2020
– Silence!
With François Michonneau, actor, Johanne Cassar, soprano, Olivier Marin, viola player and Guilhem Fabre, pianist.
Show for all audiences (text by François Michonneau, music by Rameau, Monteverdi, Garth Knox, César Franck, Rachmaninov, Vaughan Williams, Luciano Berio)
Duration 1h15
Tariff 3000€ TTC
– Commented recital
With François Michonneau, actor and Guilhem Fabre, pianist
Recital commented by an actor (music by Rachmaninov, Liszt, Ravel and Bach)
Duration 1h10
Tariff 1900€ TTC
– Return to freedom
With François Michonneau, actor, Philippe Girard, actor and Guilhem Fabre, pianist.
Poetry and piano recital on the theme of freedom (texts by Aragon, Baudelaire, Michaux, Giono, Rostand, music by Rameau, Bach, Scarlatti, Chopin, Rachmaninov, Scriabin)
Duration 1h10
Tariff 2200€ TTC
– Solo Piano Recital
With Guilhem Fabre, pianist
Piano recital (works by Bach, Liszt, Ravel and Rachmaninov)
Duration 1h10
Tariff 1500€ TTC
– Nocturnal Recital
With Sarah Margaine and Guilhem Fabre, pianists
Piano recital for four hands (works by Borodine, Ravel, Dvorak and Dukas)
Duration 1h10
Tariff 1900€ TTC
The proposed rates are indicative and represent the price charged for a single concert. If several interventions are required, the rates are degressive. These are our current projects, but we can imagine uNopia collaborating with other artists, depending on the ideas that may germinate on the side of the artists or organisers.
6. WHAT'S A UNOPIA CONCERT LIKE?
This first tour was the source of immense joy, that of finally seeing the project come to fruition, that of feeling among the public an adhesion to the idea of uNopia and that of seeing our main objectives come true (conquering a new audience, fighting boredom, finding diverse and unusual places, etc.).
We also understood a lot of things when we brought the project face to face with reality, and this led us to want to make improvements, especially concerning the acoustics in certain places, and also to have some requirements.
The idea of uNopia is not only to organise concerts in a stage truck, it's also a laboratory for inventing different forms of concerts. That's why we refuse requests to use the stage truck to play concerts other than those imagined by the collective and its artistic director. On the other hand, collaborations and ideas are always welcome.
From the point of view of organisation and technique, we felt it was particularly important to ask the organisers simply for chairs, or the equivalent, so that the audience can feel comfortable while watching the concerts, (especially when it comes to concerts in urban areas) and a fallback solution in case of rain (all uNopia concerts and shows are intended to be played first in the truck, but can always be played indoors). We will also ask for the possibility of using an electrical power supply so that projectors and sound equipment can be connected to it.
We are sure that we will always find a solution to organize with you beautiful, innovative and profound concerts to make classical music better known and loved.
7. CONTACTS
uNopia
www.unopia.eu
projetunopia@gmail.com
3, rue du Bât d'argent 69001 LYON
Jonathan Goupille
President of the association
FR: +33 (0)6 29 57 77 83
jonathangoupille@gmail.com
Guilhem Fabre
Artistic Director
FR: +33 (0)6 50 81 55 67
guilhemfbr@gmail.com
www.guilhemfabre.fr
facebook
facebook.com/projetunopia
Instagram
@unopia_project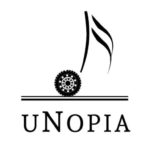 Projet uNopia
La musique classique dans un camion-scène
Concerts itinérants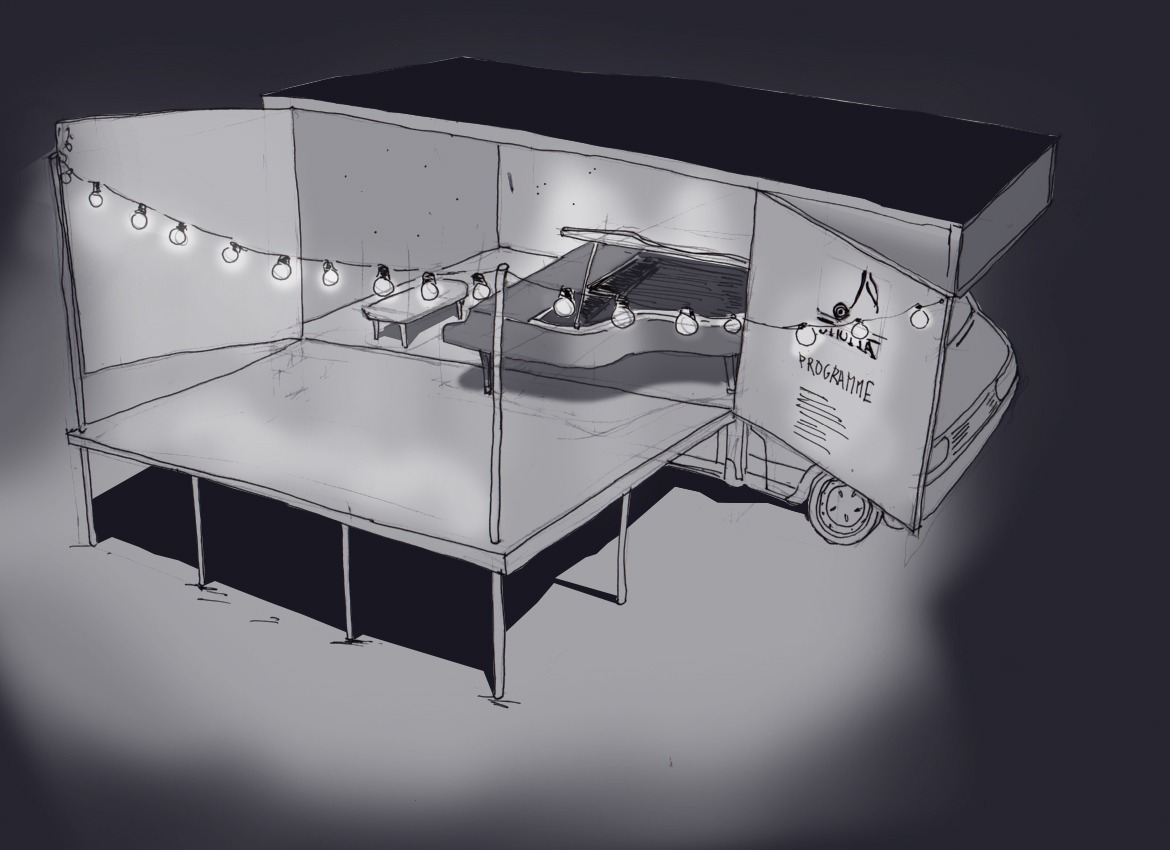 uNopia est une association dont le but est d'organiser des concerts de musique classique itinérants dans un camion-scène en France et à travers l'Europe, pour permettre à une jeune génération dynamique et passionnée de partager, faire connaître et aimer la musique au plus grand nombre.
Le projet uNopia se déroulera en deux temps : une tournée française en alternance avec une tournée européenne ou mondiale.